18/04/12 Teacher continues to learn about dyslexia
Hello this is Loddy and welcome to my post.
Last week a person made a comment about how much I learn when I teach people with Dyslexia. My young adult student clearly reminded me of this fact tonight. He said after reading (the post about him titled are you worthy to receive) that we need to tell everybody that this is genuine. He suggested we should do a daily entry about our coaching sessions. He also said that people needed to see the date and how the whole situation is an ongoing process to help him beat dyslexia. It should not seem like we were writing it to make money. This is about helping him become the person he was meant to be.
Building like know and trust
I quote his insight into how we should build up this know like and trust for people to feel comfortable about seeking help.
"Reaching out and seeking help is about finding somebody who you like know and trust. It is only then that you can open up and begin to tackle the issues bothering you and hindering your life. There is no point talking about how wonderful Henry Winkler or Richard Branson are for overcoming their issues with Dyslexia and becoming famous. The real issue here is whether ordinary everyday people can over come dyslexia this is what we want the world to know."
His compassion and desire to not only beat Dyslexia but to provide hope for all by telling his story made me feel very humble indeed. He passionately spoke about the need to keep everybody posted as we work at beating Dyslexia.
Taking his advice
His suggestion and explanation for doing this are of course brilliant. So from today on we will be building an ongoing anecdotal diary of our progress, frustrations and achievements. We do want to make this a place for making a positive difference to people who have suffered with some form of Dyslexia. So please stay tuned as we unravel our story. I hope you will gain some valuable insights that will help you to identify with my student. It is our hope that you will also gain some practical ongoing strategies for coping with and ultimately beating Dyslexia. We don't believe it is a sentence. We do believe that with understanding, compassion and a genuine effort to overcome it. Dyslexia can be tamed and eventually beaten.
Score Your Way To Good Health - With Our Healthy Lifestyle Plan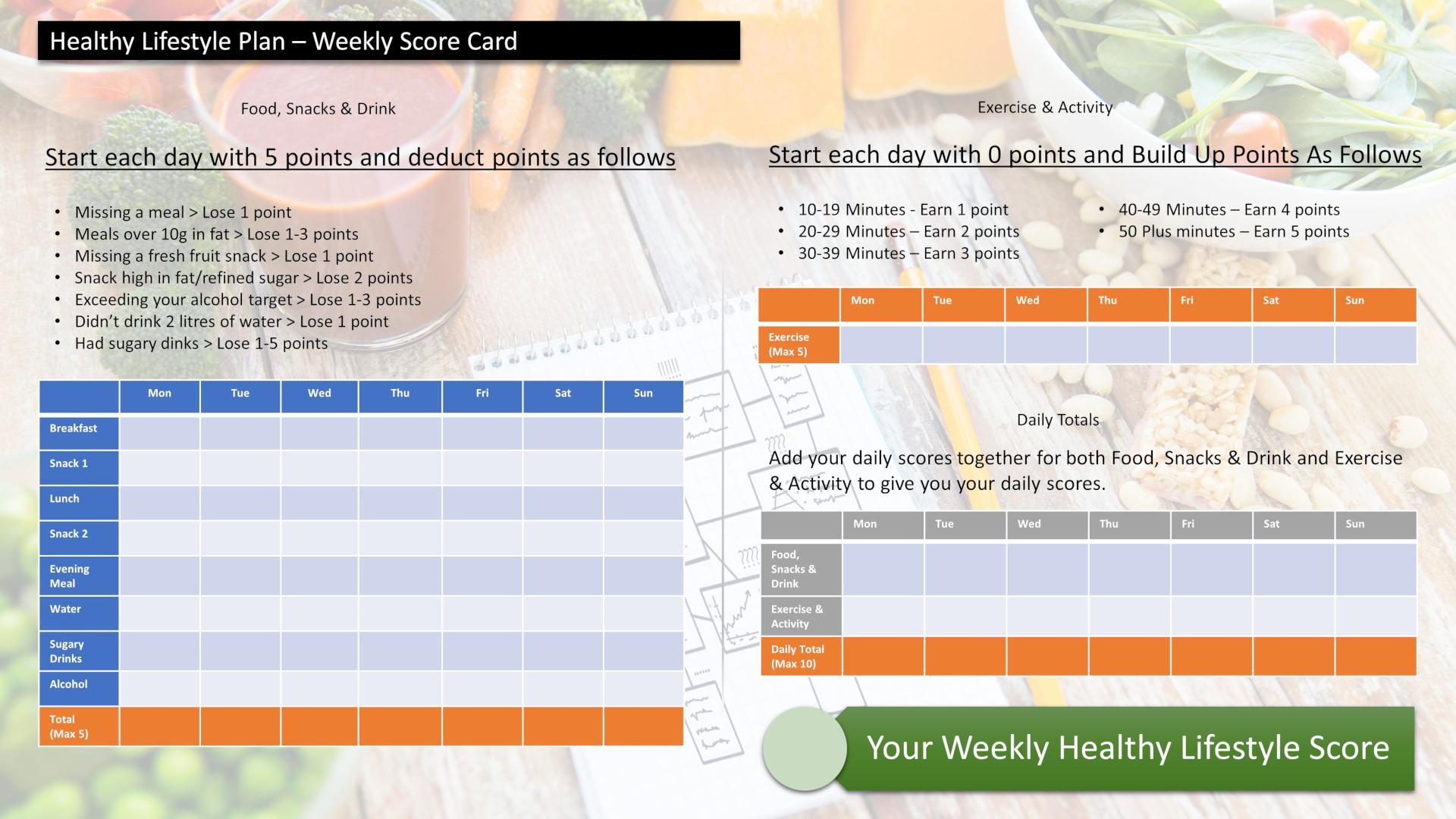 Score your way to good health with our healthy lifestyle plan and it's unique 70 point weekly scorecard!