Your inner voice is there to help guide you along the path called life. For me, building this blog and my personal development coaching practice very much involved finding my inner voice.
The inner voice is that intelligent communication that you sometimes pick up but feel is coming from somewhere different than your thoughts or the usual internal dialogue in your head. Your inner voice can be your guide, your ally and your friend. It helps you make better decisions and guides you in the right direction.
A common question that I've been asked when the subject of inner voice comes out is "So how can I find my inner voice?" I'm delighted to welcome a new author to Healthy Lifestyles Living that is going to help you find your own inner voice. His name is Loddy Micucci a retired educator but a teacher for life. Now following his passion for helping people find their life purpose and the greatness within themselves.
Over to You Loddy

Hello and welcome!
I am proud to announce that I am, and I always have been a teacher. At times my journey has been hard. It has taken many twists and turns. It has consisted of more turmoil than joy, but I'm a survivor, I'm a fighter, I'm persistent and I never lose sight of my dreams.
Let me help you on your journey, let me pick you up and be the wind under your wings. Let me help you fly over the obstacles into new horizons.
We know that life throws problems in our path, yet its never the problems themselves that matter, but the way we respond.
By showing our own struggles, without revealing them in truth, shows that we are not text book teachers, but teachers from the school of hard knocks … the guys that can truly help and make a difference in our lives.
Life is about finding your passion and purpose.
Once you discover this you will be able to live the life you were meant to live.
I can remember as a young child, how I always tried to get the best out of my team in sports activities.
I would always step into other peoples battles to help somebody out.
This often resulted in me getting the raw end of the pineapple. I reflect on how I would help other students with their homework.
Not surprisingly, I was called upon to choose teaching and motivating young children as a profession. My passion was guiding them and inspiring them to find their strengths and to achieve great things.
Little did I know then where my journey would take me.
I settled down, married and fathered two beautiful children from that marriage. As a family we spent seven happy years together before everything went pear shaped.
The trauma of separation squashed the motivational and inspirational side right out of me. In fact it started to drag me into a dark place.
Lack of confidence and a form of depression set in.
This had a devastating affect on my teaching career. So I decided to pursue a new direction.
I became involved with professional network marketing and I discovered personal development.
At the age of 53 personal development helped me to suddenly wake up out of a coma.
The sleep I had been in had kept me reacting to life and I just allowed it to throw it's curly situations at me.
The realisation that life will pay the price I ask of it hit me smack in the forehead.
My thoughts and my actions control the life I lead. The way I respond to problems is my choice.
Once I learnt to be aware of my thoughts and I eventually took control of them things began to change.
This realisation instantly inspired me to motivate and teach once again. The old saying of once a teacher always a teacher comes to mind here.
My ability to use this new found knowledge is growing daily.
It is so intense, I can even reflect back to that traumatic event of separation in my life.
My mind at the time was swept up in a state of negativity and blame , this contributed to the whole situation.
I now realise that I could actually visualise the whole thing taking place long before it actually happened.
This makes me appreciate the need to guard our thoughts from negativity very carefully.
I am now able to direct my thoughts and feed them with good positive energy.
This allows me to follow my passion for helping people to find the greatness within themselves.
My burning desire is to hone these skills and let my light shine, while I help others let their light shine.
It is my great pleasure and pride to provide regular contributions to the Larry Lewis' Healthy Lifestyle Blog.
I will be investigating how to discover your inner voice and use it so that your light can shine too.
Score Your Way To Good Health - With Our Healthy Lifestyle Plan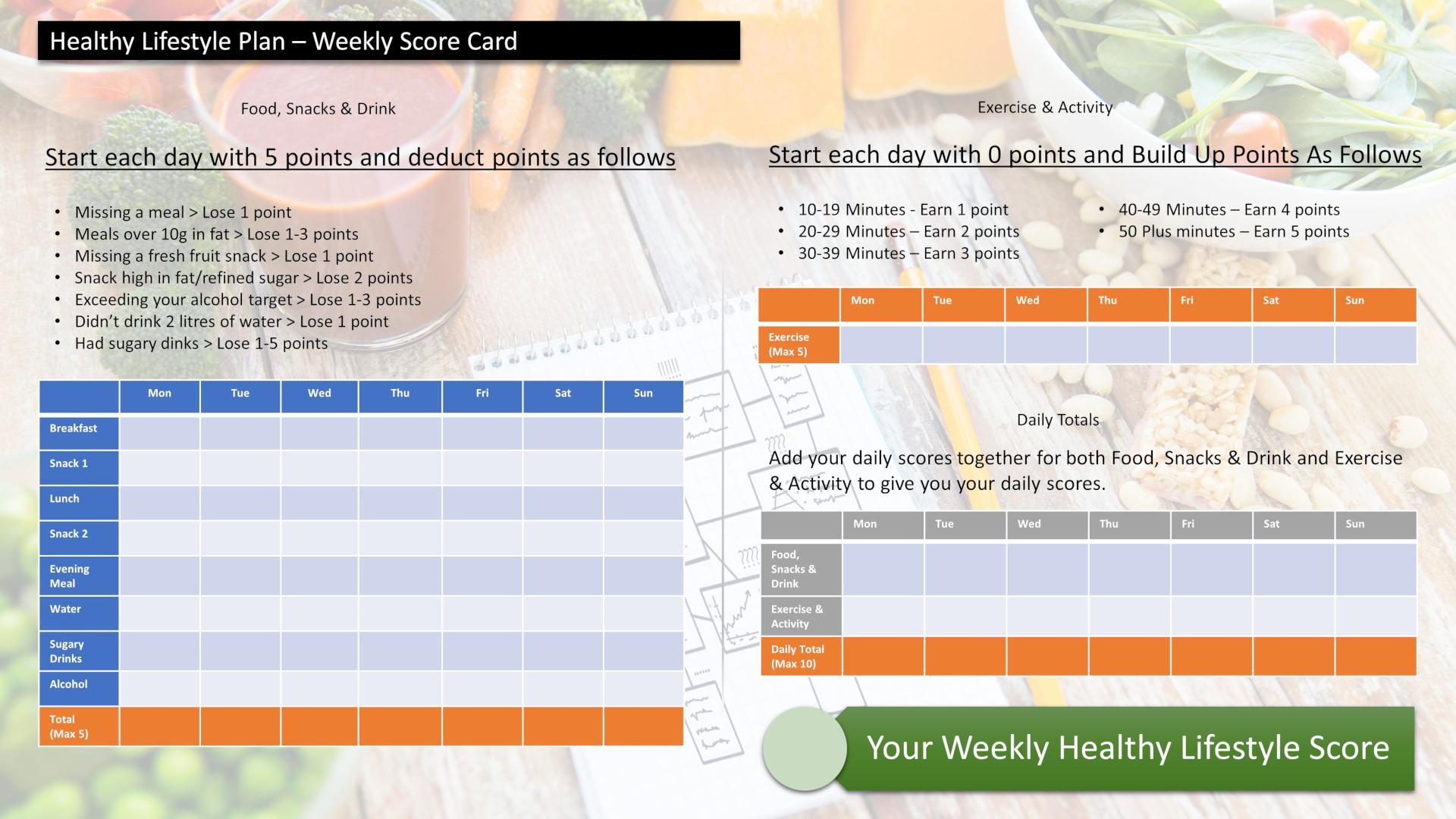 Score your way to good health with our healthy lifestyle plan and it's unique 70 point weekly scorecard!